Notice to parents who let Mormon leaders interview their kids: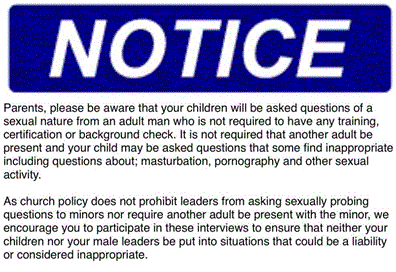 I think all the Mormon sex interviews are foolish, but especially the interviews of youth. Some five years ago I decided to put an end to at least one foolish practice - the interviewing of my minor children, alone, behind a closed door, by some guy who insists it is not only his desire, but his duty to talk to kids in this situation about sex. This Mormon practice is one of the cultiest things about the Church (that and telling adults they must only wear underwear made by the Church o_O).
If you haven't already done so, you might consider putting an end to this foolishness in your family. You can look at
the letter I sent to my bishop by certified mail to tell them to cease the practice
. The first two pages of the Google doc have the content of the letter, but the email exchange between us prior to the certified letter is copied there too. It's in reverse order, so the last thing sent is found first in the doc, and the first thing sent is found at the end. If you're concerned about Mormon leadership or your spouse trying to roll you on this, you might consider an approach like mine. The first email clearly lays out how ridiculous the practice seems to me, but invites them to figure out how to explain to me how it is normal and healthy. Long-story-short, no real attempt was made by leaders or my wife to justify the practice after that.
Here are some other resources to consider if this concerns you.
Protect LDS Cildren
(Yay for Sam Young!)
Sexually Explicit Questions Asked To Kids By Mormon Bishops
Utah judge sends former Mormon bishop to prison for sexually abusing boys in his congregation
This is Erik Hughes who was charged in July in Utah's 4th District Court with two second-degree felony counts of forcible sexual abuse that allegedly occurred in June 2014, as well as a count of tampering with a witness, a third-degree felony. This happened because Erik drugged and raped two teenage boys
while
he was the bishop presiding over a ward in Mapleton Utah.